Astrology the Earth,
and You
4-Webinar Bundle - MINI Summit
Join us for a special four-webinar with a focus on astrology and the environment.
Bundle price: $60
*You'll get all four webinars for the price of two! All four recordings will automatically be added to your account for later viewing.
100% of the profits from this event will be donated to support reforestation efforts by the non-profit OneTreePlanted.
Eco-consciousness in an Ego-era: Clues from the Natal Chart
with Laurence Hillman
This presentation will use practical chart examples to show how astrologers can recognize the capacity for the feminine and Mother Earth in a Natal horoscope. Taking an archetypal perspective, we explore the very feminine and very human connection necessary to Gaia if we are to survive as a species. Particularly, we look at each planet's/archetype's contribution to our inner play – so that, depending on our own charts, we can respond to the best of our capacities.

100% of the profits for this even will be donated to support reforestation. 
Laurence shares his inspiration for creating his lecture:
Ecology and the Astrological Imagination – Attending to the Soul Amidst Ecological Grief
 with Hadley Fitzgerald
In Greek myth, Hesiod tells us that Gaia, the Great Mother, existed even before time—before Kronos. There is in us a primordial, archetypal yearning for connection with this true Mother from whom we cannot and must not be separated. Each of us is a cell in her body, and she sustains the life in ours. Indigenous peoples have long understood this vital symbiotic, ecological relationship.
But just as astronomy was divorced from astrology by science, "modern" humans became divorced from the instinctual certainty of our dependence on the interconnected systems of the living Earth. Both current planetary cycles and current events are showing us that we can no longer take our relationship with Gaia for granted. By any measure, absorbing this reality is daunting, pre-traumatic, and overwhelming; it goes to the core of our personal and collective be-ing. How can astrology and the astrological community be of service in the critical times now upon us?
In this interview with Hadley introduces her talk and the inspiration behind it: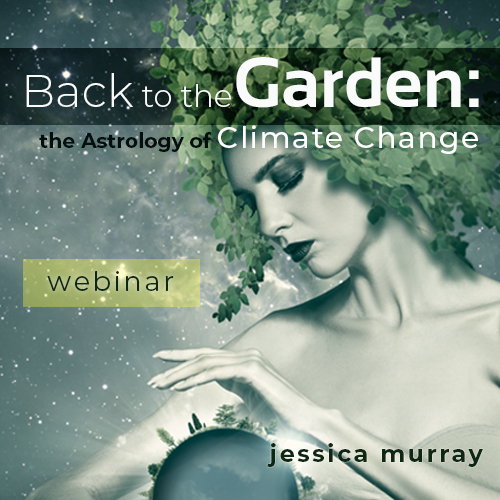 Back to the Garden – The Astrology of Climate Change
with Jessica Murray
In this webinar Jessica looks at the environmental crisis in esoteric terms, political and social terms, and closer-to-home terms: coping with the issue as individuals. She will discuss humanity's macro-historical relationship with Nature — how it changed from pre-literate agrarian times to modern scientific times — and where our current predicament might be leading us.
We will consider how planetary cycles, such as Pluto in Capricorn/Aquarius and Uranus in Taurus, fit into ecological consciousness, and what they portend for the years just ahead. We will talk about what our own charts might tell us about our unique role.
How do we keep our integrity, stay in touch with our feelings, and live up to our natal potential in the face of this collective existential threat?
Learn more about Jessica's presentation in this interview:
Radical Transformation: An Eco Astrological Perspective
with Stephanie Gailing
In this talk, wellness astrologer Stephanie Gailing will explore the current astrological invitations and how they can help us frame our perspectives and pathways. In addition to discussing the Capricorn coterie of planets, she'll talk about how the upcoming Jupiter/Saturn Conjunction in Aquarius may further inspire a community-based approach to bolstering our relationship to the world around us.
She'll touch on rituals, flower essences, and dreamwork approaches that may be supportive, as well as weave in insights from the Work that Reconnects pioneered by Joanna Macy.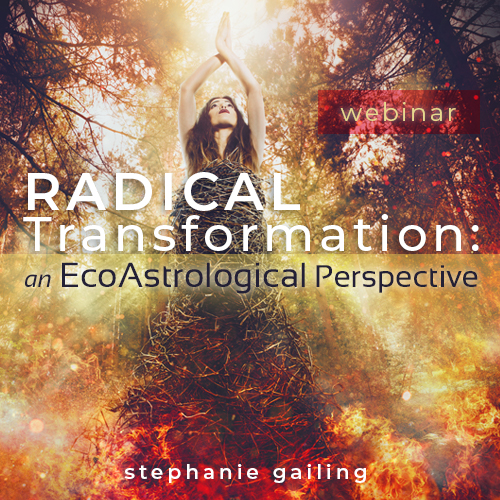 Get all four webinars for the price just $60! 100% of the profits will be donated to support reforestation. 
Stephanie introduces her lecture and the inspiration behind it:
"Jessica Murray is always well prepared and researched, well spoken and insightful. She skilfully conveys the profundity of the changes in the mundane and the personal sphere, and coherently renders the archetypes with lucidity and eloquence.."
"I have found Stephanie's counsel to be of the utmost value in navigating the currents of my life lessons, and I look to her services as a continued necessary resource in helping me to live to the fullest."
(you'll get all 4 webinars to keep and watch at any time!)