Once you decide to get more serious about astrology and you're ready to run charts on your own, you'll need to choose an astrology software program. Here are a few tips to jump start your search.
Start with the free option at Astro.com
Before you commit to spending a decent amount of cash on a program, you can start running charts on Astro.com for free. You'll be able to run and save charts, look at the birth chart as well as transits, and do just about anything you need if you're just starting out. We suggest starting here because after you start working with charts yourself, you'll learn a bit more about how you like to work, and what kinds of features you might need. Then you'll be ready to make a wise choice when you purchase your first program.
Get started here by selecting "Chart Drawing, Ascendant": https://www.astro.com/horoscopes
Solar Fire
We suggest most new astrologers choose Solar Fire because it's the most popular so you'll likely be able to easily find free support from a friend who is already using it. Solar Fire is a robust program, full of all the bells and whistles, so you can't go wrong with this choice. In the past, Solar Fire was only available on PC, but now they have a Mac-based offshoot called AstroGold. AstroGold works on Apple computers and is also a mobile app.
Win*Star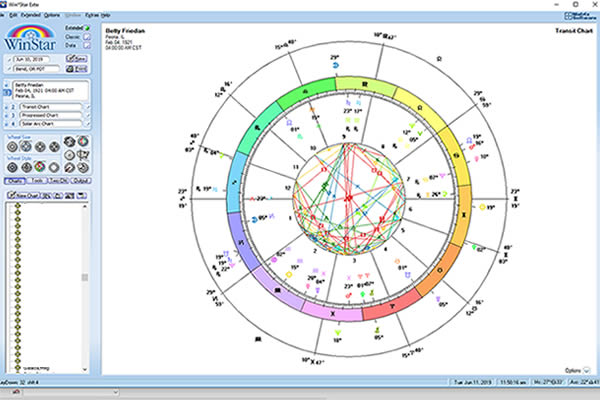 Win*Star was my first software program and I've used it ever since. Although it's missing the full feature set of Solar Fire and Sirius, it has some features those programs don't. One of them is the visual aspect viewer, which allows you to click each planet in a list, and highlight the aspects in the chart according to the orbs you've set.
Win*Star was one of the first software programs for astrologers, at it includes easy access to some of developer Michael Erlewine's favorite techniques, including "burn rate," midpoints, and "Lilly strengths" (planets ranked by strength according to William Lilly's guidelines).
As a student of Astrology University, you can take advantage of a discount price for Win*Star using the following codes:
Win*Star Extended: $200 (Code: THWSTAREXTAU)
Win*Star Pro: $325 (Code: THWSTARPROAU)
Sirius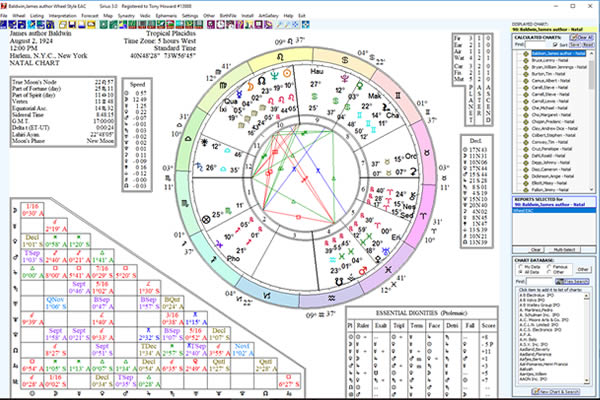 Sirius is perhaps the most robust software available. And it's the best choice if you want to research charts, as it contains the entire Astrodatabank database as well as many other charts – last count was over 50,000 charts! You can search by just about any factor you can think of, including my personal favorite, declination.
Sirius is a great choice if you're, well, serious. 🙂
As a student of Astrology University, you can take advantage of a discount price for Sirius using the following code:
Siriusv3: $500 (Code: THSIRIUSAU)

The developer, Cosmic Patterns, includes this note: to pay using a Credit Card: Go to this page to enter your credit card information: https://www.patterns.com/cgi-bin2/orderccs.cgi then put a note on the "Special Instructions" box of what you want to order and the discount code. Their credit card will not be charged. We will charge it once the order is clarified and confirmed.
Time Passages
See notes below.
For Apple Computers
Time Passages
Time Passages has been Mac friendly for years. It's also one of the more user-friendly astrology software programs. What isn't easy to figure out is easy to get help with via their awesome support team.
Time Passages isn't just for Macs though. It can be used on PCs too, and is a solid program on both platforms.
Astro*Gold
The Solar Fire team jumped into the iOS market with Astro*Gold. They're adding features all the time. If you've wanted to use Solar Fire on a Mac, Astro*Gold might be worth a look.