Live Panel Discussion: Saturn in Capricorn
00321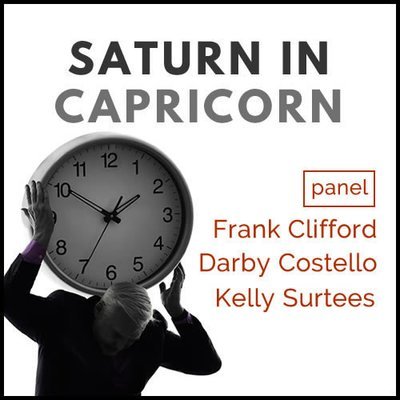 Live and Recorded Webinars
Join three great astrologers for a panel discussion of the transit of Saturn in Capricorn.
Saturn enters Capricorn on December 21, 2017 and remains there through March 23, 2020.
Frank Clifford, Darby Costello and Kelly Surtees will share insights about this landmark transit of Saturn in the sign of its rulership. In the years to come Saturn will be joined by Jupiter and Pluto, emphasizing the significations of Capricorn.
After initial sessions with each of the three speakers, we will open into a discussion between the astrologers and attendees. Bring your questions, reservations and hopes about this transit, and we'll work together to give you ways of constructively and proactively engaging this energy, as well as think about themes that might emerge in the collective.
DATE: SUNDAY DECEMBER 17, 2017, 10:00AM PT (PACIFIC TIME)
Approximately 90 min. $25 (if registered by December 15; $30 thereafter)

You do not need to attend live. All registered students receive a copy of the recording to download.