Traditional Astrology Certification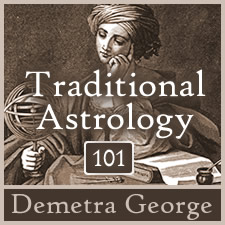 Students may pursue certification in Traditional Astrology with Astrology University master astrologer Demetra George. Certification requires completion of 3 online self-study courses, one private student module with Demetra, and a private final exam. Students may begin coursework now with the first 2 required courses in the series: Traditional Astrology 101 and Traditional Astrology 201.
Note: Demetra currently has a waitlist for private student mentoring, but you can begin the online courses now.