The Houses: Exploration and Application
Join Kelly and Tony for a rich and full exploration of the astrological houses. In this four-week online course, we'll learn how the different house systems are calculated, the meanings of the houses from ancient to modern traditions, and how to use house rulership for fine-tuned chart analysis.
Week 1: House Systems – Calculation and Use with Tony
Week 2: House Topics from Ancient to Modern with Kelly
Week 3: House Rulership with Kelly
Week 4: House Rulership Applied with Tony
Required texts: The Houses by Deborah Houlding; A Handbook for Humanistic Astrologers by Michael Meyer; The Twelve Houses by Howard Sasportas
Optional supplemental text: The Elements of House Division by Ralph William Holden; House Keywords and More by Michael Munkasey
Pre-recorded for Instant Access*
Dates (for next live cohort): April 28, 2021 to May 23, 2021
Pre-recorded lessons plus live Q&A sessions on Sundays
$295 (non-certification) / $350 (certification-track**)
*You may register and start this course and get started today or wait for the next live cohort and take the course at the same time as a group of students and participate in the live question and answer sessions.
**Certification-track students will receive feedback on homework and an exam review. Non-certification students receive the same study materials and videos but do not receive personal feedback on their work.
Instructors: Kelly Surtees and Tony Howard
Course includes: four video classes, six live Q&A sessions, weekly reading assignments and homework. Video, audio and handouts are available to view and/or download. Certification students will have graded homework assignments and an exam.
Level: Intermediate students (you've been studying for about a year or more).
This is course eight in our four-year training program. You do not have to be enrolled in the program to take this course.
Kelly Surtees is a counselling astrologer and writer who splits her time between Sydney, Australia and Toronto, Canada. She is an inspiring teacher, who loves to share astrology with students and clients. With more than 15 years in private practice, Kelly is experienced, warm, friendly and insightful.
Kelly's passion for astrology is infectious, and her intention with every course is to help students like you deepen their understanding of astrology. Past students of Kelly's are using astrology to help others around the world.
Kelly teaches with a traditional focus, grounding ancient philosophy into modern life. You'll learn how to express the language of the sky clearly and with purpose. Kelly's insight and knowledge is matched by her skill as a clear, accessible teacher. You'll have fun, learn and grow as a person by studying with Kelly.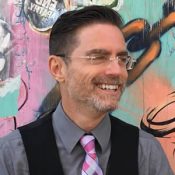 Tony is passionate about sharing an astrology that empowers people to consciously co-create life as an engaged participant. Tony's writing is featured in the Flare anthologies Astrology the New Generation and The Book of Music Horoscopes. Through his website TheAstrologyCoach.com he coaches both clients and astrology students to find inspiration, creative solutions and fresh insights using the cosmos as a guide.
"Kelly's course was wonderful, up beat, informative and fun. I love her style and learned a lot. It is so clear that she loves astrology and that energy shines thru. Thank you."
"The four-year program classes are informative, the students are supportive and we learn a lot from each other. Tony is an amazing teacher, he takes the time to talk and support each of his students' questions. Tony's support of his students is amazing. The classes are never rushed but supports the students' pace. I would strongly encourage anyone interested in learning about astrology to take any courses being offered by Tony University. Tony and his teachers are well versed, and of high caliber."
"Kelly is a great teacher and astrologer. She can explain astrological energies in a way that makes it easy to understand. And, that isn't an easy task!"