The Outer Planets
Uranus, Neptune and Pluto
This is course six in our four-year training program. You do not have to be enrolled in the program to take this course. 
In this course we will explore the meaning of the outer planets Uranus, Neptune and Pluto. We'll explore the core themes and archetypal dynamics related to these powerful planets that Howard Sasportas calls the "gods of change." We'll apply what we learn to a core group of charts and through homework exercises begin to speak the language of the outer planets. We conclude the course with a look at the outer planets as generational signatures.
Week 1: Uranus – Jessica Murray
Week 2: Neptune – Jessica Murray
Week 3: Pluto – Jessica Murray
Week 4: Generational Signatures with Tony Howard
Required texts: The Gods of Change by Howard Sasportas; Prometheus the Awakener by Richard Tarnas
Recommended text: Making the Gods Work for You by Caroline Casey
Next live dates: February 23 – March 20, 2022
Pre-recorded lessons plus four live Q&A sessions during the dates above (dates and times for live Q&As will be posted in early 2022).

*Pre-recorded for instant access
$295 (audit) / $350 (certification-track*)
*You
may register and start this course and get started today or wait for
the next live cohort and take the course at the same time as a group of
students and participate in the live question and answer sessions.
*Certification-track
students will receive feedback on homework and an exam review. Audit
students receive the same study materials and videos but do not receive
personal feedback on their work
Instructors: Jessica Murray and Tony Howard
Course includes: four video classes, four  recorded Q&A sessions, weekly reading assignments and homework. Video, audio and handouts are available to view and/or download. Certification students will have graded homework assignments and an exam.
Perfect for beginners and those looking to review the basics, as well as those pursuing our four-year program diploma. 
Jessica graduated from Brown University, where she studied Jungian psychology and linguistics. After a few years in a political theatre troupe, Jessica began a study of the symbolic language of archetypes, and has been practicing and teaching astrology in San Francisco for thirty-five years.
Jessica writes the popular astrology blog Mother Sky. Her books include Soul-Sick Nation: An Astrologer's View of America and At the Crossroads: An Astrologer Looks at these Turbulent Times.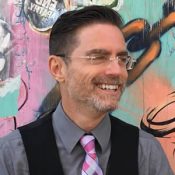 Tony is passionate about sharing an astrology that empowers people to consciously co-create life as an engaged participant. Tony's writing is featured in the Flare anthologies Astrology the New Generation and The Book of Music Horoscopes. Through his website TheAstrologyCoach.com he coaches both clients and astrology students to find inspiration, creative solutions and fresh insights using the cosmos as a guide.
"Jessica Murray is an intelligent and compassionate guide to astrology. She penetrates and communicates about the complexities of astrology and it's influence upon civilization and individuals in a clear and relevant manner."
"Tony is an excellent teacher, I'm looking forward to learning more from him and the rest of the instructors at astrology university in the future. "
"Tony, your lectures have been stellar. It's clear that you're rigorously thinking through the order in which we need to hear the information to facilitate our actually taking it in. Moreover, you're also resisting the temptation to make the meanings formulaic, and thus overly reductive. I think it's quite remarkable that after a mere three lessons, I'm starting to grok how to think astrologically."