This is course three in our new four-year training program. You do not have to be enrolled in the program to take this course. 
In this course we'll look at the key signification of the inner planets in the natal chart, with a focus on Mercury, Venus and Mars. We will also explore Sun-Moon blends in the last lesson.
Week 1: Mercury

Week 2: Venus

Week 3: Mars

Week 4: The Inner Planets in Birth Charts
You'll learn why these are called the personal planets, explore their core meanings, and take first steps in understanding them in the context of the natal chart. 
Required text: The Inner Planets by Liz Greene
Pre-recorded for Instant Access*
$295 (audit) / $350 (certification-track**)
*You may register and start this course and get started today or wait for the next live cohort and take the course at the same time as a group of students and participate in the live question and answer sessions.
**Certification-track students will receive feedback on homework and an exam review. Audit students receive the same study materials and videos but do not receive personal feedback on their work.
Instructors: Frank Clifford and Tony Howard
Course includes: four video classes, four live Q&A sessions, weekly reading assignments and homework. Video, audio and handouts are available to view and/or download. Certification students will have graded homework assignments and an exam.
Perfect for beginners and those looking to review the basics in addition to students pursuing our four-year program diploma.
Frank Clifford is a popular London-based astrology writer and teacher. He has written several best-selling books (including  Getting to the Heart of Your Chart, Palmistry 4 Today and Solar Arc Directions), runs Flare Publications (which published The Twelve Houses by Howard Sasportas and Astrology in the Year Zero by Garry Phillipson), and has had his work translated into eight languages. Since he began running The London School of Astrology in 2004, Frank has given close to a thousand classes and seminars in twelve countries.
Frank writes for The Mountain Astrologer and has guest-edited several issues in the past few years. In 2012, the astrological community gave him The Charles Harvey Award, a lifetime achievement honour for 'Exceptional Service to Astrology', and in 2016 Frank received a writing award from ISAR. In 2018 he was nominated for a Regulus Award for Professional Image.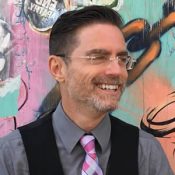 Tony Howard is the founder of Astrology University, which provides some of the best online education in astrology available in collaboration with some of the finest Western astrologers of our time. 
Tony's writing has been features in The Mountain Astrologer magazine in addition to the Flare anthologies: Astrology, the Next Generation and The Book of Music Horoscopes.
Tony is passionate about sharing an astrology that empowers people to consciously co-create life as an engaged participant. Through his website TheAstrologyCoach.com he coaches both clients and astrology students to find inspiration, creative solutions and fresh insights using the cosmos as a guide.
"Tony, your lectures have been stellar. It's clear that you're rigorously thinking through the order in which we need to hear the information to facilitate our actually taking it in. Moreover, you're also resisting the temptation to make the meanings formulaic, and thus overly reductive. I think it's quite remarkable that after a mere three lessons, I'm starting to grok how to think astrologically."
"Frank is an excellent tutor, with a clear and concise way of presenting the wide ranging amount of material in this course. He also presents some techniques that are not well known, so not only did I feel that this course took my astrology to a higher level, I also feel privy to unique and insightful techniques. I would highly recommend this class."
"I've been studying astrology for over two decades, and was optimistic about taking this intro class as an avenue into grounding my knowledge. I can't even begin to express the depth and breadth that Tony opened up in his presentations and his presence with the students. My knowledge base about the signs and houses was truly expanded. Tony is a gifted teacher, and it was quite obvious that his passion and priority are enhancing the knowledge of all participants, from all levels of learning. I am looking forward to continuing with my studies at AU."
"Tony is an excellent teacher, I'm looking forward to learning more from him and the rest of the instructors at astrology university in the future. "