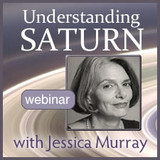 Join gifted astrologer Jessica Murray for a profoundly useful webinar about how to work more constructively with Saturn.
A serious approach to astrology requires a study of its symbols in their archetypal form, where we separate their essential meanings from the lore that surrounds them. To understand the core Saturn Archetype, we have to first wade through our Saturn Anxiety: its accumulated reservoir of negative associations.
Our first step is to acknowledge the exceptionality of the negativity that surrounds Saturn. How did this planet's meaning get all weighted down with fear and dread? In this pre-recorded webinar, Jessica explores answers to these questions and more, with the aim of leaving you with tools to work constructively with this notorious planet.
1 hr. 26 min.
$30 Download Now