Webinar: Honing Your Forecasting Skills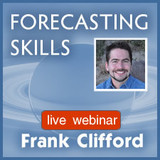 As consultant astrologers, rather than using forecasting tools to make firm predictions, we do our best work when we articulate the processes that can take place under various transits, progressions or directions. In doing so, students and clients recognize the 'season' they're in and become aware of personal celestial cycles.
If you've ever been daunted or overwhelmed by forecasting, this seminar will offer a number of tools (including 'Define and Connect') to simplify the process of interpreting upcoming trends, and Frank will address a number of factors to take into consideration. Along the way, he'll introduce you to the most reliable and accurate forecasting tool, Solar Arc Directions, and show you how to use these simply and effectively to achieve maximum results. You'll be amazed!
3 hrs. 40 min.
$45 Download Now