Webcast: Solar Arc Directions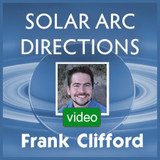 Would you like to master a simple forecasting (and rectification) tool that'll amaze your clients and students with its accuracy and simplicity? In this workshop, Frank will share some tips for making the most of Solar Arc Directions and identifying landmark periods in your lives. He will also introduce his original work on 'Shadow Transits', which links seemingly unrelated life events.
Learn how Solar Arcs can be a vital, invaluable part of your astrology toolkit, and how it can enhance your work as an astrologer. Feel welcome to share your charts and life stories. Some will be used during this interactive day.
Recorded Saturday May 16, 2015
3 hrs. 29 min. mp4 video download. Includes slides and handouts.
$39 Download Now