Webinar: Venus Retrograde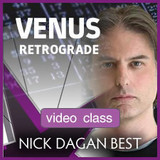 Learn how Venus Retrograde operates in the birth chart. You'll hear some fascinating stories about well-known people with Venus Retrograde natally. You'll also learn how best to approach this important transiting cycle, and how to look at your own Venus Retrograde cycles historically.
Nick's skill at placing astrological events in historical context through his engaging recount of illuminating stories and world events will help shed light on the context and meaning of the dynamic and sometimes mysterious Venus Retrograde cycle.
This webinar is pre-recorded and available for immediate download.
1 hour. mov video format.
$25
---
About Nick
Nick Dagan Best is a Montreal-based astrologer, researcher, speaker, and writer. Known as "the human ephemeris," Nick's extensive research correlating historical events with astrological phenomena draws from his database of over 30,000 event charts. He has given presentations for numerous regional astrology associations across the U.S., and at conferences such as NORWAC (2005, 2006), The Blast(2007), SOTA (2011), and UAC (2008, 2012).
Demetra George calls Nick "one of the brightest and most dynamic voices of astrology's future!