Intro to Astrological Symbols
This is course one in our new four-year training program.
In this course you will learn the basic symbols necessary for deeper astrological study: 14 Planetary Symbols, 12 Signs, and 12 houses.
If you've been ready to jump into learning astrology and don't know where to start, or you're looking for a structured program that will help you feel confident practicing astrology for yourself or others, this is the perfect place to begin.
Week 1: Astrology, planetary archetypes and your connection to the cosmos
Week 2: The 12 signs as expressions of embodied experience
Week 3: The 12 Houses and intro to house systems
Week 4: Setting up a chart, using the ephemeris
You'll also learn how to set up a chart in an astrology program (includes demonstrations for Solar Fire, Win*Star, and Sirius), how to use an ephemeris, and how to choose a house system to begin your study.
Taught by Tony Howard
Required text: The Contemporary Astrologer's Handbook by Sue Tompkins (purchase separately)
Recommended supplementary texts: The Modern Textbook of Astrology by Margaret Hone; The Inner Sky by Steven Forrest; Horoscope Symbols by Rob Hand
Available Now for Instant Access!
$295 non-certification track / $350 certification track*
Course includes: four video classes, six recorded Q&A sessions, weekly reading assignments and homework. Video, audio and handouts are available to view and/or download.
*Certification students will have graded homework assignments and an exam. Non-certification students receive the same study materials and videos but do not receive personal feedback on their work.
Perfect for beginners and those looking to review the basics. Experienced students looking to enter our four-year program have the option to attempt to test out of this course for full credit.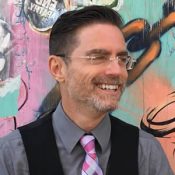 Tony Howard is the founder of Astrology University, which provides some of the best online education in astrology available in collaboration with some of the finest Western astrologers of our time. 
Tony's writing has been features in The Mountain Astrologer magazine in addition to the Flare anthologies: Astrology, the Next Generation and The Book of Music Horoscopes.
Tony is passionate about sharing an astrology that empowers people to consciously co-create life as an engaged participant. Through his website TheAstrologyCoach.com he coaches both clients and astrology students to find inspiration, creative solutions and fresh insights using the cosmos as a guide.
"Tony, your lectures have been stellar. It's clear that you're rigorously thinking through the order in which we need to hear the information to facilitate our actually taking it in. Moreover, you're also resisting the temptation to make the meanings formulaic, and thus overly reductive. I think it's quite remarkable that after a mere three lessons, I'm starting to grok how to think astrologically."
"Tony is a wonderful teacher! Watching him analyze charts is a master class in interpretation."
"I thoroughly enjoyed this educational piece. Tony Howard is a phenomenal presenter! He tied the material into interesting and memorable concepts and provided many useful tips and techniques."
"I've been studying astrology for over two decades, and was optimistic about taking this intro class as an avenue into grounding my knowledge. I can't even begin to express the depth and breadth that Tony opened up in his presentations and his presence with the students. My knowledge base about the signs and houses was truly expanded. Tony is a gifted teacher, and it was quite obvious that his passion and priority are enhancing the knowledge of all participants, from all levels of learning. I am looking forward to continuing with my studies at AU."